Himalayan Panacea is a therapeutic gem celebrated for its potent fusion of natural ingredients, methodically curated to alleviate muscle tension and joint discomfort. Crafted with a blend of Himalayan herbs, this oil embraces centuries-old wisdom to offer deep, comforting relief.
Himalayan Panacea Heat Rub Oil
Benefits
Fast: Acts quickly.
Easy to apply: Non-greasy, absorbs well into the skin and doesn't stain clothes.
Targeted: Apply directly to the concerned area.
People who culturally use garlic in their food and like its smell should go for Allium Sativum (Garlic) variant. For others, we recommend Lemon grass variant.
Garlic and Lemon grass essential oils provide similar benefits. Both variants are equally effective!
For bulk order enquiries please email to 

Himalayan Panacea, Heat Rub Oil, harnesses the power of a meticulously curated blend of natural ingredients renowned for their therapeutic properties. This potent solution incorporates thymol crystal, known for its analgesic and antiseptic qualities, along with menthol, providing a cooling sensation that soothes muscular discomfort. Complemented by Camphor crystal, revered for its pain-relieving properties and the invigorating essence of pine oil, this invention offers a stimulating experience. Combining the health benefits of sesame oil, which is well-known for its anti-inflammatory and moisturising qualities, with the zesty scent of lemongrass and the warming touch of zingiber officinale (ginger), this blend effectively relieves tension, encourages relaxation, and provides a comprehensive approach to muscle and joint care.
Wonders of exclusive Himalayan herbs married in a secret composition, prototyped numerous times led to the final perfect product – Himalayan Panacea.
Tried, tested, validated, and declared as the most effective product by every user.
The trusted Himalayan Panacea, is fortified with the power of natural ingredients, that opens skin pours, penetrates deep inside, and provide a soothing effect at its core. 
OUR VISION: No matter what age – A healthy mobile life to enjoy every day and smile every moment.
OUR MISSION: Himalayan Panacea heat rub oil becomes part of every household.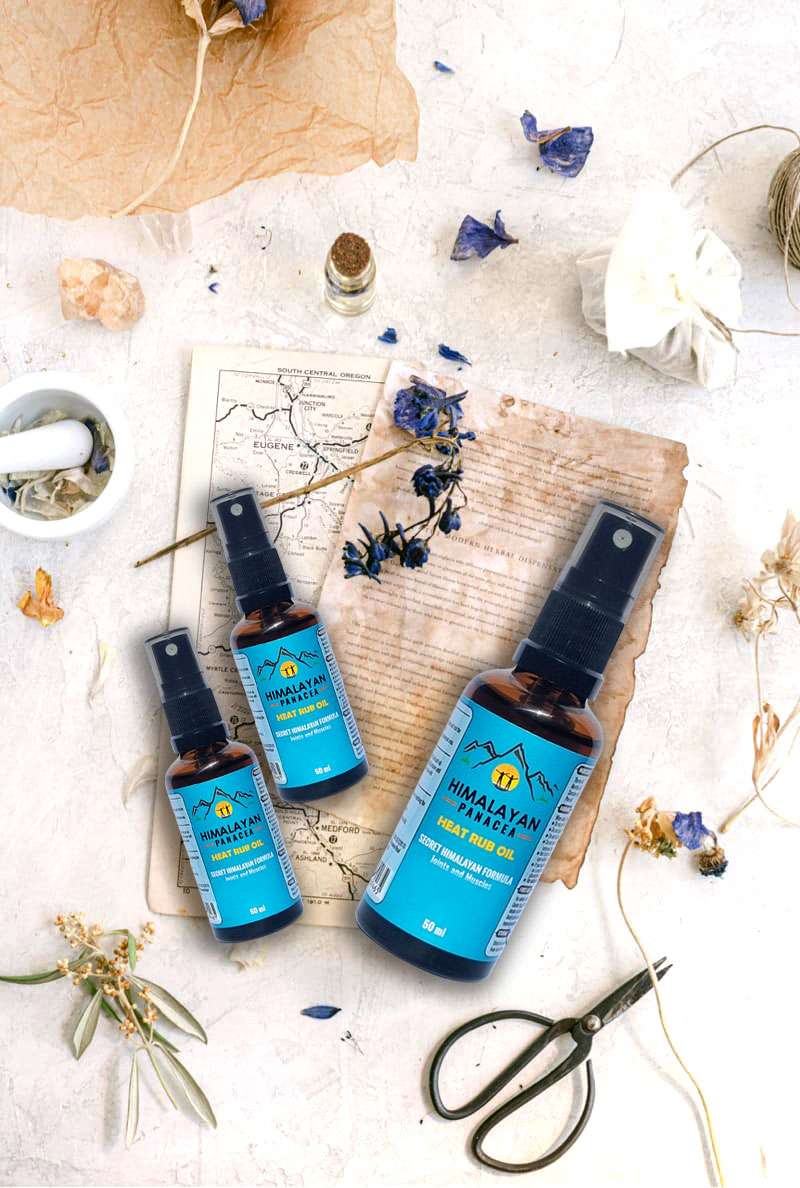 Nilesh Shahane
2023-11-08
This product is very useful for all types of strains and muscle pain. I had recurring lower back pain and found this to be helpful.
Great product
Ajju thakur Ajjusain
2023-09-10
Vry nice product it's amezing oil
Very effective
Subhashini Nagarajan
2023-03-22
I bought this oil for my Mother-in-law who has got a knee pain for a quite few years. She has tried it out which seemed to help her and she keeps using it everyday and it is doing what it should be doing. She admits that it is the best product and that it gives her a good night sleep once the oil is applied to her knees. I have tried it on myself for a muscular ache on my shoulder and it did relieve me from the pain instantly. We shall continue to use it and shall recommend it to people especially to those that are suffering from arthritis.
Breathing Space
2023-03-15
Highly recommend! Ive tried so many products before to relieve my muscle pains from running and strengthening exercises and this one is a pleasant surprise. I have a bad knee and it usually takes days before I recover. Applied this at night after run and the next day my legs and knee feel better! Love this product and will never hesitate to recommend and share this to everyone I know.
Praveen Dasari
2023-02-20
Amazing product , Was quite skeptical when I bought this product. I was suffering from severe lower back pain due to earlier slip disk injury on L4-L5. After applying this oil for just couple of times she started feeling huge relief from the pain and was able to get back to her day to day chores comfortably. Also my wife used this for her normal body pains, found great relief with application of this oil for only few times. Would recommend this product highly to any age group who need relief from chronic pains.
Provided instant pain relief to my dads knees who has chronic arthritis. Gave my rotator cuff tear amazing pain relief. Great product highly recommend it! Great product for older people unable to exercise.
No. 1 best product found till date Thanks
Provided immediate relief for my knee and lower back issues. Perfect for any joint pains without any side effects. Highly recommend this product for pain relief and recovery.